Dog Toy Vocal Ball Latex Football
✅24 hours customer service>>>> support@toytempo.com
✅Free Shipping>> Free shipping for order over $49.99
✅Returns>> Fast refund,100% Money Back Guarantee if you don't like it
✅We back that statement up with a risk-free 30 days money back guarantee
SHOP WORRY FREE
Rest easy.All Toytempo products insured by
Satisfaction Guarantee
!If this isn't the most competitive product in the same kind you've ever bought.It's on us.
Details
Weight: 60g
Material: Latex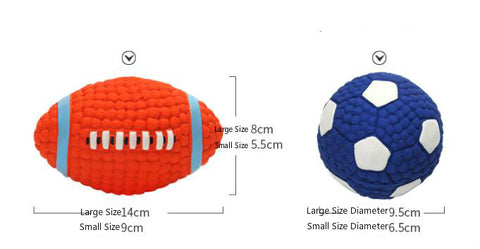 Why do dogs need molar toys?


1. Uneasy sleep at home alone
2. The owner is away from home and there is no one to accompany
3. Dogs love to tear down their homes,destroy furniture mess
4. Shouting to disturb neighbor
5. Toys are not bite-resistant and perishable?
6. Dogs have grouper teeth
Functions:
1. Enhance the feelings of pets, interact with fun tossing, strengthen the emotions of the owner and the dog, and don't smash the furniture
2. Stimulate the interest of dogs and vocalize to attract the attention of dogs
3. Molar cleaning teeth, built-in soft doll cotton, easy to rebound, strengthen the dog's interest in playing and protect the dog's teeth
Features:
1. Latex material, comfortable teeth grinding
2. sound device, ending the tearing home-squeeze out the sound, attract the dog's attention
3. Filled with doll cotton, high resilience-soft and light, more resilient to biting
4. Easy to clean

Note that this product is used for tossing and retrieving. Do not let the dog bite for a long time to avoid tearing and damage. It is suitable for dogs with small bite force.
Happiness Guarantee
NO IFS, NO BUTS.
Customer satisfaction is our top priority!We want you and your family to be happy with whatever product you purchase from Toytempo
If you have problems with your order,we will solve it and make you happy whatever it takes.
If your don't like your Toytempo, we'll replace it.
If you have any questions or concerns, please submit a Contact Request to our customer support team and we'll be happy to help. 
Satisfaction Guaranteed.
The Toytempo Team