Soft And Warm Cactus Flower Pet Nest
✅24 hours customer service>>>> support@toytempo.com
✅Free Shipping>> Free shipping for order over $49.99
✅Returns>> Fast refund,100% Money Back Guarantee if you don't like it
✅We back that statement up with a risk-free 30 days money back guarantee
SHOP WORRY FREE
Rest easy.All Toytempo products insured by
Satisfaction Guarantee
!If this isn't the most competitive product in the same kind you've ever bought.It's on us.
Frequently Bought Together - (Buy More Save More)
Details
This is the perfect gift for pets.If you are looking for a high-quality cat bed, you have found the right place.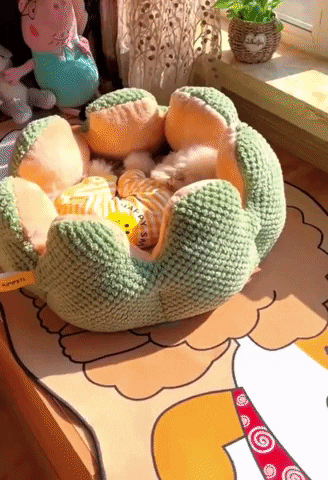 This is a comfortable bed for your pet to sleep and rest healthily. Winter is very warm, so your pet will be happy in it. Let your pet experience cloud like softness. A soft and comfortable bed always reminds him of his mother. A warm and comfortable bed makes it feel warm. Soft and comfortable, it is very suitable for cats to play and sleep indoors or on the top.


I think it likes this pet bed very much.We only sell what your cat likes.Listen to its deep sleep breathing, watch its belly undulation, touch its soft hair, gently pull it into the arms, meow and go to sleep.


Dimensions:
Filling: PP cotton

Level: deep sleep

Fabric: Bubble Velvet/plush
Small size: for pets within 0-3 kg (diameter: 40cm)
Medium size: for pets within 4-6 kg (diameter: 50cm)
Large size: for pets within 7-10 kg (diameter: 60cm)

★ There are some errors in manual measurement, please forgive me.
Happiness Guarantee
NO IFS, NO BUTS.
Customer satisfaction is our top priority!We want you and your family to be happy with whatever product you purchase from Toytempo
If you have problems with your order,we will solve it and make you happy whatever it takes.
If your don't like your Toytempo, we'll replace it.
If you have any questions or concerns, please submit a Contact Request to our customer support team and we'll be happy to help. 
Satisfaction Guaranteed.
The Toytempo Team