Wristband Fairy Interactive Cat Wands Teaser
✅24 hours customer service>>>> support@toytempo.com
✅Free Shipping>> Free shipping for order over $49.99
✅Returns>> Fast refund,100% Money Back Guarantee if you don't like it
✅We back that statement up with a risk-free 30 days money back guarantee
SHOP WORRY FREE
Rest easy.All Toytempo products insured by
Satisfaction Guarantee
!If this isn't the most competitive product in the same kind you've ever bought.It's on us.
Frequently Bought Together - (Buy More Save More)
Details
Features:
No-toxic stick and feather to which cats are naturally attracted to.
Unique wristband design, leading your cat following your steps and getting more interaction without having to wave teaser by yourself. You can tease your kitten during the household process.
This amazing toy is ideal for cats to stimulate instinct and get more exercise.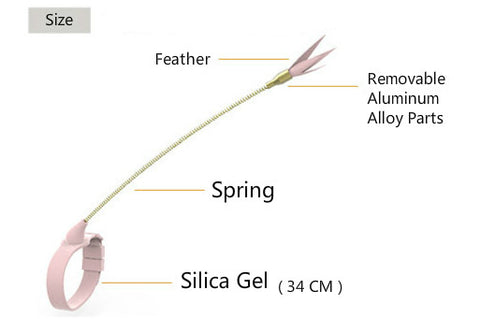 Happiness Guarantee
NO IFS, NO BUTS.
Customer satisfaction is our top priority!We want you and your family to be happy with whatever product you purchase from Toytempo
If you have problems with your order,we will solve it and make you happy whatever it takes.
If your don't like your Toytempo, we'll replace it.
If you have any questions or concerns, please submit a Contact Request to our customer support team and we'll be happy to help. 
Satisfaction Guaranteed.
The Toytempo Team